Rush (2013) Makes The Adrenalin Rush Through Your Body!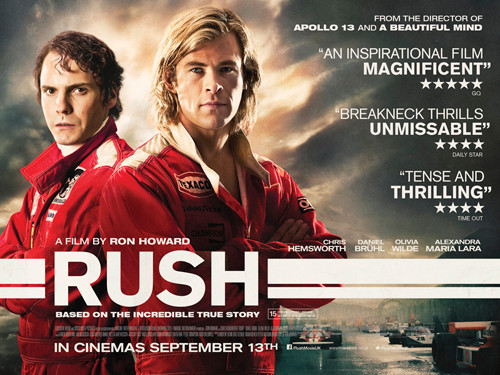 Formula 1 … the race where each driver risks his life for the chance to one day be able to hold the World Championship trophy. Formula 1 is a sport with no margin for error: one mistake could cost you your life. The biographical sports drama film, Rush (2013), follows two Formula 1 drivers as they fight their way to the top.
Set in the 1970s – the golden era of Formula 1 racing – the film is based on a true story of a great sporting rivalry between the English playboy James Hunt (Chris Hemsworth) and his methodical Austrian opponent Niki Lauda (Daniel Brühl). The film illustrates the 1976 Formula 1 season where drivers contested concurrently over a sixteen race series.
Both Chris Hemsworth and Niki Laud recreate the legendary battle between the two drivers. Hemsworth fits well in the role of a playboy driver with ego issues both on and off the track whileBrühl convincingly introduces the audience to the methodical mind of Niki Lauda. Hemsworth is most commonly known for his role as Thor, in both Thor (2011) and The Avengers film series. Likewise, Daniel Brühl has appeared in films such as Inglourious Basterds (2009) and The Bourne Ultimatum (2007).   
Rush is directed by Academy Award-winning Ron Howard, who also produced the films Apollo 13 (1995) and A Beautiful Mind (2001). All in all, Ron Howard's Rush is a thrilling movie and while some die-hard racing fans might have hoped for a bit more racing, I feel that the film captures a great amount of speed and intensity. Tension and excitement is also created by the film's off-track scenes, which provide the audience with an insight into the life 1970's Formula 1 driver.
The film has been rated R as there is brief sexual content, language, disturbing images and some drug use. I feel that the appropriate age limit for the film is from 15 years old and upwards. Overall, Rush gives you an extraordinary insight into the battle and lives of two Formula 1 racers. From intensity and danger, to love and the feeling of loss, the audience is carried through the development of two drivers who share a common dream: to be crowned FIA Formula 1 World Champion.

Sebastian F. is 17 years old and from Copenhagen, Denmark. He currently lives in Stockholm, where he studies at Stockholm International School. In his free time he plays football at Djurgårdens IF U17.