Fueling Education, One Child at a Time: The Nepal Project
More stories from Josefine S.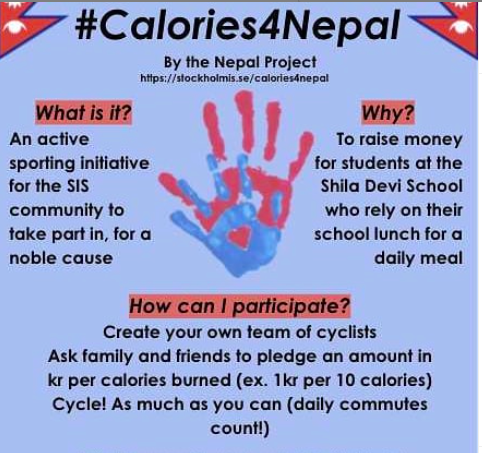 Since 2014, The Nepal Project has played an important role in supporting the Shila Devi school since it was significantly damaged in a series of earthquakes. With the help of Stockholm International School's students, the project has contributed to the funding of rebuilding and reconstruction. In recent years, the project has even moved to fund school lunches, books and supplies, teacher salaries, and more. However, work still needs to be done. Nepali students still lack necessities, and we at SIS have the power to support them. The Nepal Project's coordinator Mr. Roets reached out to Josefine S. of The Quirky Quibbler to spread the word on what the project is and why it matters so much. 
The first thing that strikes me as Mr. Roets logs onto the Google Meet is the bustling of the subway behind him. Mr. Roets, wearing a mask and rushing to catch the train, is clearly a busy man–and for good reason, too, considering the extent of the project he helps to oversee. 
The teacher is immediately conscientious of this, however, saying "I'm just going through the station so if it gets a bit noisy, just let me know," after we exchange our pleasant greetings with each other. We then dive in right away with talk of the Nepal Project.
"SIS supports a school in the Nagarkot valley just outside of Kathmandu," he says. "We help them to pay for school uniforms, we provide a subsidy for two of the female teachers' salaries, we also help them pay for daily school meals for all of the children there… it's a partnership that's been running for about five years now."
"Once a year, our project flies over there, accompanied by two teachers, and we do a bit of a school takeover. We get to learn a lot from the children. My thoughts are always about how happy they are with so little. They hopefully learn one or two things from us as we try to kind of breach the language barrier."
As he talks about the trip, I think of my own sister, who was a part of the project for three years and went on two of those trips to the Shila Devi school. In all of the pictures she brought home, she seems overjoyed, and it's evident that the trip is just as valuable to SIS students as it is to the Nepali ones, even if it's in vastly different ways.
The conversation then veers toward the topic of the most recent Nepal Project campaign, Calories for Nepal. Mr. Roets describes how the idea of the fundraiser was born of his own bicycling endeavors.
"When I exercise and when people exercise here, we burn calories. And the kids in Nepal, they rely so heavily on their school lunch. They're the ones who need the calories for their school day. So, why can't we swap?"
Thus, a fundraiser was born. The idea is that one team here in Sweden burns the calories on their bikes while others sponsor them, and then the cash will be sent off to Nepal for the betterment of the school.
"Then I thought, oh, well, that's a brilliant idea, you know," Mr. Roets laughs, "as you do when you're sitting on your bike, solving the world's problems."
As an avid bike enthusiast myself, I can confirm that there's not much you can't fix when those endorphins are running through your veins. 
Mr. Roets emphasizes that it's something people can do remotely, which is a significant advantage given the current situation. Speaking of the current situation…
"It's been like bashing our heads against the wall," he states with a chuckle when I bring up COVID-19. (I'm sure many readers can relate.) "It's been really rough. From meetings with the board, we've come up with a lot of really good ideas, but then, because of COVID regulations and timings, a lot of what we have tried to do has ended up having to be tweaked or halted."
"The kind of normality of being able to have a meeting, discuss something, decide on it, done–it's gone. And with the new backing and support of the SIS Spirit Fund, we've had to adjust from being simply the Nepal Project on its own. That's also been something we've had to learn to work with, another hoop for us to jump through."
It's been challenging but definitely worth it, I would say, for a cause like this. 
He agrees. "If we get it right, and if we get some decent donations, then it's all worth the sweat and tears we've been through."
But to get it right, to get those donations, the people of SIS need to truly understand why it is that the Nepal Project is so important. 
"I think so many of us take for granted the meals that we have every day. It's something that comes very easily to us that we don't have to worry about. But in Nepal, the children at the Shila Devi school don't have that kind of privilege. For many of them, if they don't go to school, then they don't get a meal. And that meal can mean the difference between understanding something in class and having your brain somewhere else because you're hungry. The repetition of that means that they don't get an education, not really. Being able to fuel that education properly is what we are able to do."
As the interview comes to a close, Mr. Roets emphasizes that "for Calories for Nepal, we have so many teams at the moment who are putting themselves out there to do some work to raise money, and I'd like to encourage anyone who reads this to help out however they can. They don't have to jump around or donate a thousand crowns, but just a simple donation of 100 kronor–which is so little to us in Sweden–means so much to the kids in Nepal. Just 700 kronor will feed a child at that school for an entire year."
"And we have the power to supply them with that food," I say, awed. 
"Exactly. That and more."
Want to help fuel the education of the Shila Devi school's students? Click here to check out how the campaign went and to donate whatever you can! Remember, even the smallest sum counts. You can also check out the latest Nepal Project updates on the official Instagram account.
Leave a Comment