Bad Boy's Antics Make You Laugh
Another entry from grade 2 for our review competition. Langston tells us ALL about Horrid Henry in this review.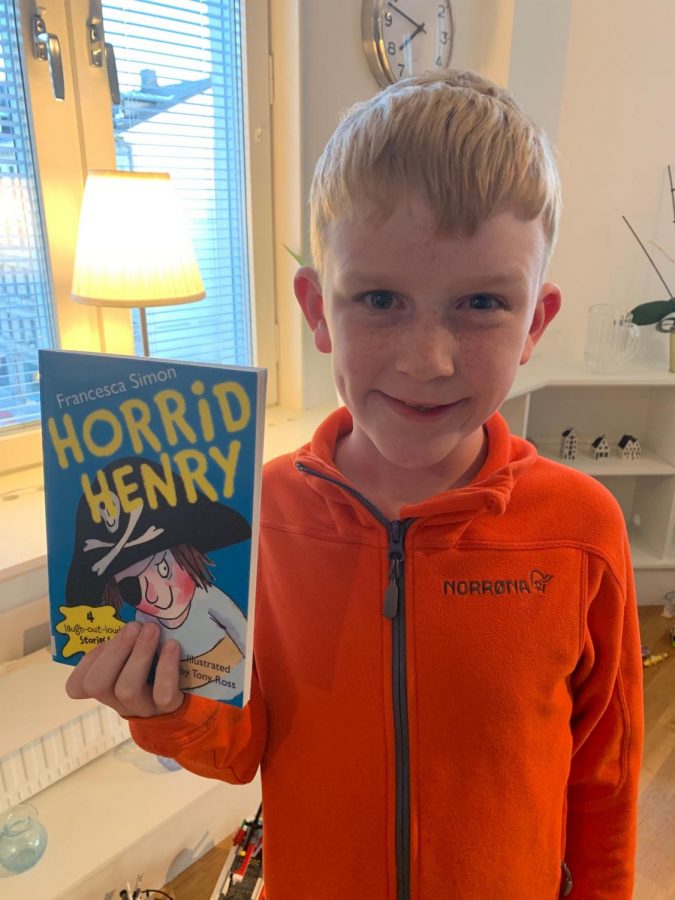 Book: Horrid Henry
Author:  Francesca Simon
Horrid Henry is a book about a boy called Henry who is always being bad.  The book has four chapters that all make you laugh. 
SPOILER WARNING SPOILER WARNING SPOILER WARNING SPOILER WARNING SPOILER WARNING
Chapter 1
"Horrid Henry's Perfect Day"
 In this chapter Henry tries to be good but when he does good things they end up getting him in trouble.  For example, every morning Henry would pour cold water on his brother Peter's head to wake him up but when he was trying to be good he did not.  That meant that Peter and Henry's parents didn't wake up and Peter and Henry were late to school. I like this chapter because Henry is always being bad but in this chapter, he is not.   
Chapter 2
"Horrid Henry's Dance Class"

"

This is a good book for boys and girls because it is funny"

— Langston

. 

This chapter is about how Henry ruins the dance show. In the show, Henry had to stand behind a leaf because he was causing trouble in dance class.  He said to the teacher, Ms. Tutu, "Nobody can see me" and then Henry knocked down the leaf and the dancers dressed as raindrops fell down. Then the raindrops fell on the dancing tomatoes and the tomatoes fell on the beans and the beans fell on the bananas.  And Henry started doing a buffalo dance. When the performance ended only Henry and Peter's parents clapped. Horrid Henry is NEVER going to be invited back to dance class! I liked this chapter because Henry knocked down the class during the performance and ended up doing a solo.  
Chapter 3
"Horrid Henry and Moody Margaret"
I like this chapter because it teaches you how you shouldn't act on a playdate.  Margaret makes Henry do things when he plays with her like making Henry be a baby.  Henry agrees to do this so he can play with Margaret's stuff. At the end of the chapter, Henry and Margaret make Glop (a disgusting mixture of food) and try to feed it to Peter.  
Chapter 4 "Horrid Henry's Holiday"
In this chapter, Henry goes on a camping holiday and he is excited because his friend Moody Margaret went camping and had a pool, a tv, a couch, and a comfy bed.  He thinks he is going on a camping trip like Margaret's but he ends up in a normal camping site with an outhouse, a tent, and a wet sleeping bag. After a horrible experience at the campsite, they end up leaving and going to a place like Margaret's.  
I would like you to check this book out.
Leave a Comment